Milston Agri
Rannan Teollisuuskone Oy manufactures high-performance MILSTON slurry separators for agricultural needs. Powerful, mobile or fixed electric powered MILSTON slurry separators are at their best in evolving farms, in the use of farm work contractors and in biogas plants.
Milston equipment for agriculture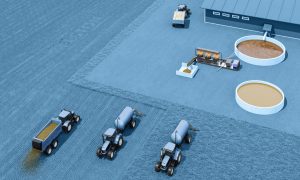 Separated phosphoric dry substance
At milk and cattle farms the separated dry substance provides an excellent fertiliser for grain or for replanted grasses.
Separation reduces the use of purchased fertilisers. At pig farms it is cheaper to transport the remaining phosphorus as dry substance than raw slurry.
Composting kills the weed seeds.
The dry substance provides low-cost raw material for biogas plants and it is an excellent fertiliser for crop production and garden.
Separated nitrogenous liquid
The separated nitrogenous liquid is a clean fertiliser for the grass. Separation reduces the use of purchased fertilisers.
The liquid is fast to spread, it absorbs well to the ground and it does not block the slurry equipment.
The spreading of separated liquid can be perfectly done with hoses.
The separated liquid does not require mixing before spreading to the field. Separation reduces the need for storage capacity by 15-20 %.
The separation can be done by using high-efficiency mobile equipment or by a farm-specific separator that is located inside a building.
Agriculture
With slurry separation
The nutrients of farm slurry can be more precisely utilised in grass and field farming during the growth season
The main nutrients nitrogen and phosphorus can be better focused on the field sectors. This also creates savings in the use of chemical fertilisers
The separated nitrogenous liquid part is a good and clean fertiliser for grasses
The separated liquid is faster to spread, and it absorbs better into the ground
The fodder hygiene risks are better controlled for milk and cattle beef production, because dry matter in the slurry does not attach to the grass and get eaten by the cattle
The spreading equipment does not become blocked and the spreading is faster
The spreading can be done quickly with lighter equipment that requires less power
The separated dry matter high in phosphorus starts to decompose quickly and provides excellent fertiliser for grain or for replanted grasses
In pig farms the MILSTON technique has reduced the amount of phosphorus in slurry, which has reduced the needed spreading area for slurry, thus reducing also the spreading costs and enabling better control of environmental load
Seeds of any weeds are left in the dry matter and composted, which decreases the need for weed prevention
The required capacity of slurry tanks is lower
Biogas production
Transporting raw slurry is basically transporting water
With MILSTON slurry separator, you can quickly and efficiently produce and gather large enough amounts of farm slurry dry matter to be utilised as raw material for biogas plants
When a biogas reactor uses farm slurry dry matter, its gas production can be increased significantly when compared to raw slurry
The nitrogenous separated liquid part can be spread on the farm as fertiliser without mixing
Biogas facilities' raw material purchasing and transportation costs can be reduced